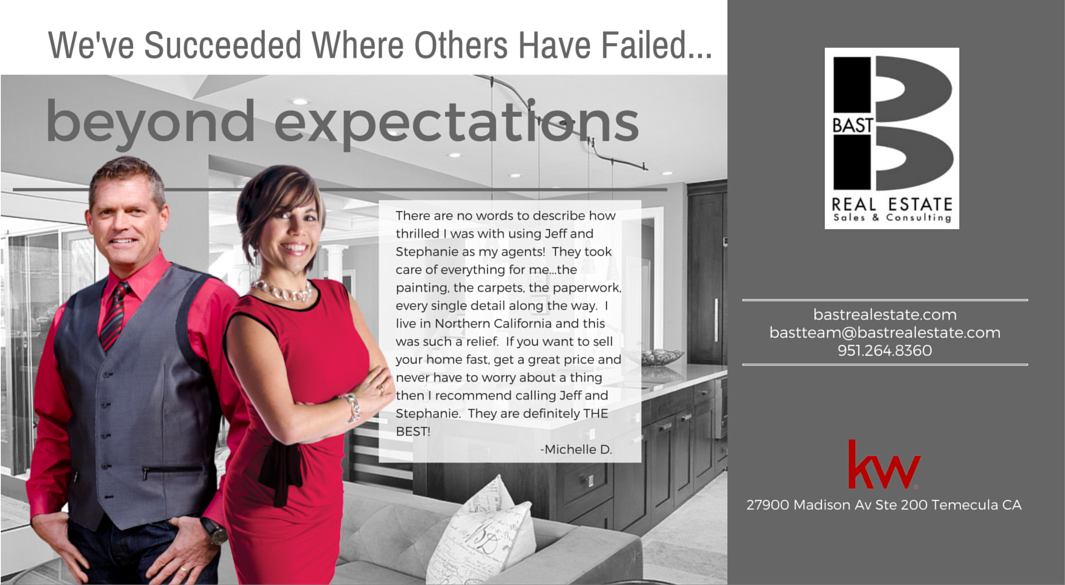 We Appreciate Your Feedback – Leave a Review!
Zillow 5 Star Premier Agents – Click Here for More Information
HARVESTON CONDO – SOLD WITHIN 2 WEEKS
I have sold several homes and my experience with the Bast Team was exceptional. The process in working with Jeff & Stephanie was smooth and productive. They kept me informed in every current detail by returning my calls promptly and communicating with me in a simple and thorough way – J. Maragio

HAPPY HOME BUYER
The Bast Team was recommended to us by a close friend and guided us through the process of buying our first home! We were fortunate to have their expertise and knowledge during the home buying process. Since purchasing our home, they have continued to be a great asset by answering questions and providing recommendations as needed. We would recommend the Bast Team to friends and family. -N. Quach

PLEASED SELLER & BUYER
The Bast Team worked with us on the sale of our last home and purchase of our current home. They have a calm and professional demeanor and is no doubt an expert in their field. Our transaction felt like their priority. Jeff was excellent at communicating the status of our sale and purchase, very proactive, and understood our needs and concerns at every step. Would definitely recommend. -H. McBroom

10+ YEAR CLIENT
During the ten years of our acquaintance, Jeff has successfully guided three members of our family in the purchase or sale of their home. His great depth of real estate knowledge and experience are complemented by his patience and kindness. Jeff's high level of professionalism mean I will continue to use his services as my own realtor and I'm glad to recommend him to others. -N. Omaha

OVERSEAS SELLER!
Jeff helped me sell my property in Oceanside, Ca while I was stationed overseas in Okinawa, Japan. He made the process very smooth and efficient especially with being in another country and the time difference. He took the time to keep me informed and didn't hesitate to answer all my questions. His expertise and professionalism were invaluable. I would recommend him to all of my family and friends. -T. Simpson

OUR HOUSE SOLD IN 8 DAYS!
Jeff sold our house in Temecula in 8 days! Because of his success, we asked him to sell my parents' home in Wildomar as well. Success again! When we retire and move back to California, we will certainly seek his outstanding help once again. -Neujahr Family
OUT OF AREA BUYER
I'm from out of town and wanted to invest in a rental property in Murrieta-Temecula. I picked out about 10-12 potential properties for viewing. Jeff made it really efficient and mapped out all the properties for viewing in half day. He was good about finding out what kind of price expectation from the seller agent so we don't waste time going back and forth. We picked couple of prospects and closed on a REO property before Christmas break. Through the offering process, there was never any pressure. He was very professional and objective on the process. During the closing process, he coordinated the home inspection, he was very communicative and updated me on the progress. After close, he took all the keys from title company and handed to a rental agent for listing. So it has been a smooth experience working with Jeff on my first investment property there. I look forward to working with him in the future. -W. Chao

GREAT SERVICE – SELLER
Being an Escrow Officer myself, I had the pleasure of having Jeff Bast represent me as a Seller for my personal residence, Jeff never missed a beat and kept me informed throughout the process. Jeff's professionalism and customer service was outstanding, along with his impeccable follow through, I Can't say enough about how much I appreciated the quality of service. -A. Dubnicka

TOP CLOSING AGENT!
We had three transactions with Jeff and were very happy with him. He helped us sell 2 homes and purchase another. He had great knowledge of the Temecula area. We found him by calling around and asking offices what their top closing agent was and Jeff's name kept coming up. He is a closer!! Great guy!! -Breckenridge Family

MULTIPLE TRANSACTIONS
Jeff is indefatigable with infinite patience and professionalism. He listed our home and helped us sort through the multiple offers to pick the best one for us. Then, when we were ready to buy again, he guided us through hill and dale for two years until we found what we wanted, sending us videos when we were out of country, lining up multiple properties to view when we were in town. We ended up buying two properties through Jeff, and would not consider using another agent. We regard Jeff Bast to be our good friend. -J. Waddick

NEW TO TEMECULA – BUYER
My experience with Jeff was smooth and easy from the outset through to the conclusion. After my first contact, he developed a list of possible properties and took me on a tour of all of them. When I had questions he was always responsive quickly with the needed information. The entire transaction was effortless and well organized by Jeff and his office. I wouldn't hesitate to use him again to buy or sell properties in the area. -J. Makiaris

ESTATE SALE
Jeff Bast was very professional and friendly. He helped me deal with the sale of my mothers home, ,which I was in charge of…Dealing with the loss of a loved one and in charge of so many personal matters is not an easy task. Jeff made this process much more pleasant for my family and myself. I will use him again when selling property. Thank-You -Linda Sawyer

SHORT SALE
Jeff is very knowledgable and flexible. He always returned messages the same day and made the process very easy. He also assisted us with the complicated process of a short sale. We will definitely use him again. -S. Andrews

CARLSBAD 2ND HOME SOLD
When we decided to sell our second home in San Diego we have contact Mr Jeff Bast to Handel the selling , the fact that we lived in palm desert and our second home was in Carlsbad Mr Bast have traveled from Temecula to Carlsbad to palm desert to gather and put the listing together, he set up the listing on the MLS, met with realtors and there client,also posted pictures and wrote a nice description of the property and made it so effortless, the Condo was sold in 2 days and we almost got a full price. There are many realtors out there , but when it comes to real estate experience, professionalism and ethics, it is exactly what you need for your realtor to have to handle it, He will always be our go to guy for our real estate needs. Thank you Jeff -C. Madain

HAPPY INVESTOR
Jeff just helped me on my 3rd investment property. we just closed. basically, if you don't have an experienced agent working for you, you will loose money. at best, you won't make nearly the same ROI.
Jeff is savvy, intelligent, and up to date on the market in Temecula. I can recommend Jeff Bast without reservation. TVF

SELLER AND BUYER
My husband and I contacted Jeff to sell our home in Claremont,Ca. and find a home for us in the Murrieta, Temecula area. He immediately made us feel special and we were his main concern. We have never worked with anyone so passionate about what he does. He listened to our wants and needs and found us our beautiful home. We would definitely contact Jeff again, and refer all our family and friends to him -E Penovich

MULTIPLE TRANSACTIONS
We moved in 2004 and had to list my house with 2 different real-estate agents. After our house sat empty for a year I contacted Jeff Bast. He thought it was slightly overpriced. After his marketing report and a couple of improvements we listed it with Jeff. He said it would take about 1 month. We had 2 full offers within 2 weeks and sold for only $8 less than we had originally listed. Since I have purchased and sold 2 fixers with Jeff and each time exceptional results. He is there every step of the way. I highly recommend Jeff. -Derek W.

THE ONLY REALTOR FOR US
Jeff Bast is THE only realtor we will work with. We have used him several times in selling and purchasing, we have no stress to deal with, he does everything -J. Herrmann

RELOCATION
The sale of our home was in great hands. Jeff sold our house in less than two weeks, getting us top dollar! I am an individual who likes to know what is taking place all the time and Jeff always answered my calls and kept us up-to-date on everything. We needed to move (out of state) prior to closing, Jeff kept an eye on our empty house and helped keep the pool maintained, easing our concerns of the house not being occupied prior to the close. We couldn't have been happier with all the care and attention to detail!
-S. Straw

FOUND THE "RIGHT" HOUSE FOR US!
I felt very fortunate to have Jeff Bast as my real estate agent when I purchased a home 6 months ago. Jeff's extensive real estate knowledge & experience, combined with his tireless efforts, were key to successfully finding my wife & I the "right" house for us. Throughout the process, Jeff was always available via phone & very accommodating with his time. During the final negotiations, Jeff provided invaluable advice & he was there for us every step of the way. It was a pleasure working with Jeff, and I would not hesitate to recommend him to my family & friends. -B. Pollack

SELLER
Jeff is extremely detailed and helpful. The whole process was thoroughly outlined to me, in a professional, friendly manner. Since this was a first transaction me me, I found this approach very comforting. I would recommend Jeff to anyone! -J. Acuna

SELLER
Jeff is extremely detailed and helpful. The whole process was thoroughly outlined to me, in a professional, friendly manner. Since this was a first transaction me me, I found this approach very comforting. I would recommend Jeff to anyone! -J. Acuna